Posted on 21/07/2017 |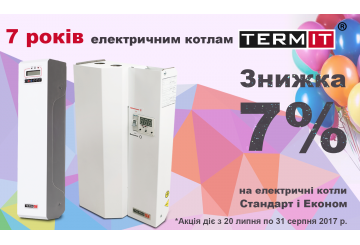 During this time we have gained the trust of buyers not only in the territory of Ukraine, but also abroad. Having demonstrated the efficiency, reliability and European quality of heating devices.
In this regard, the "Renome" company holds the promotion and gives you a 7% discount on the "TermIT" electric boilers of the Standard and Economy series.
* 7% of retail price, for retail customers.
* The promotion runs from July 20 to August 31, 2017.
Back